Annette Tiedeman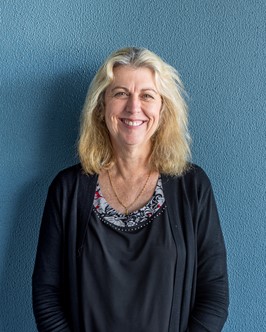 Hidden away in the 'hole in the wall' office at our Mayfield location of CatholicCare you will find the lovely Annette Tiedeman. Starting in a brand new role to CatholicCare as the Education Coordinator for the Permanency Support Program, Annette has brought along with her amazing knowledge and experience from previously working in the education system.
Annette was a registered teacher with the NSW Department of Education for 28 years, and over that time worked within the special education and mainstream education environment. Annette thoroughly enjoyed her time as a classroom teacher, and the numerous other roles that she held, including Assistant Principal.
Annette is also a Neurolinguistic Kinesiologist. What does that mean may you ask? Someone who works with links to learning and performance, and identifies areas of learning difficulties. During this time, Annette had a private practice where she supported students with learning difficulties with movement exercise and educational training. 
Annette also worked for Wesley Mission in a similar role to what she is working in now. She developed their new education program in the Hunter Region working closely with NSW Department of Education to support students in Out of Home Care. In this role Annette was responsible for overseeing the education progress of students from preschool to Year 12.
The Education Coordinator role was a perfect fit for Annette, combining the two areas that she is most passionate about – education and welfare. Annette says "throughout my teaching career I have always been particularly interested in the welfare needs of the students and in particular working with students from trauma backgrounds".
The most enjoyable aspect of Annette's role is the part where is she able to work across the Mayfield, Maitland and Cardiff offices. She enjoys working in collaboration with the teams and together they are already achieving some 'big wins' for the children and young people. 
Annette enjoys learning and has recently completed her Masters in Special Education – specialising in Early Intervention. She has also taken another challenge on to continue her study in completing another Masters specialising in Deaf education.
Annette calls herself the 'crazy craft lady', who, in her spare time, tends to take on projects that often multiply throughout the house. Often these projects become creative works in progress, donations or presents – so watch out all, you may be the receiver of her next craft creation!!