---
Keeping a relationship strong
June, 2018
Q After a marriage breakdown and many years of being on my own, I am now in a new relationship. I believe we have a solid foundation for a wonderful relationship as we communicate often and quite well, but I'm curious to know what other factors make a relationship strong. I don't want to find myself single again, particularly as this new relationship feels so right.
---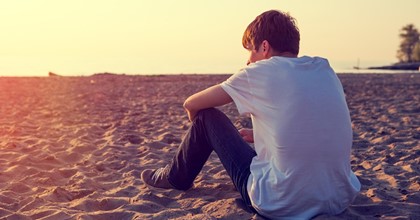 The aftermath of suicide
May, 2018
Q One of my son's friends recently died by suicide and although he wasn't in his immediate circle of friends, they spent time together through sport. Although my son seems to be coping as well as can be expected, I want to make sure I'm doing everything I can to support him and his friends. What can I do for him?
---
Speaking the same (love) language
April, 2018
Q Sometimes I feel my partner and I don't really understand each other. Although we do talk about our feelings and we have shared goals, I feel he doesn't show me love the way I want him to. I think I am more romantic about expressing my love for him but he tells me he shows me he loves me by doing things for me such as cooking and doing a lot around the house. I really appreciate these things about him but I don't associate those actions with romance – to me, they are just a normal part of a relationship. I'm worried that we just don't see love or romance the same way and I'm not sure how to make him understand me more. What can I do?
---
Making health a family affair
March, 2018
Q As my 8 year-old son was getting dressed for school the other day, he told me he had "jiggly bits" – referring to his stomach. At the time, I didn't know what to say so I brushed it off. But the truth is, I know my son is heavier than he should be at his age: partly because he enjoys processed sugary food, partly because he is not as active as his older brother and would prefer to spend time on his iPad, and partly because I don't force or encourage him to be any different. But I worry about his health as he is getting older, and now that he has made this comment, how do I introduce the idea of a healthier lifestyle?
---
Strategies for gratitude and happier living
February, 2018
Q: Sometimes I find myself getting caught up in the negativity of people around me and forget about the good things that are also happening. How can I ground myself and remind myself that life is also full of hope and good things?
---
Accustomed as I am...
December, 2017
Q: I have an intense fear of public speaking. This would not be a problem if my job didn't require me to speak in public from time to time. I am worried that people will see how nervous I am and this will make me feel worse. What can I do to build my confidence?
---
How much is too much?
November, 2017
Q:The end of year is approaching and I have been reflecting on my drinking habits. I feel I drink too much alcohol and would like to address this. I used to enjoy a few glasses of wine on Friday night and then Saturday nights, but over the past year, I find myself drinking every night. I feel this is impacting on my health and my family. How much is too much and how do I begin to make my health a priority again?
---
Building resilience in children
October, 2017
Q:I'm a parent of two young boys and would like some tips on helping them cope with making mistakes. I see other parents with great intentions trying to fix their children's problems but I'm not sure that telling my children everything will be okay will teach them about life's disappointments. How do I support my children to build their determination and resilience?
---
Awkward conversations
September, 2017
Q: Last month you gave advice on how to begin an awkward conversation with a colleague. I would like advice on how to be on the receiving end of those awkward conversations. I hate conflict and am worried that I might let my emotions get in the way of resolving an issue a colleague has raised with me. What should I keep in mind to help me accept potentially awkward feedback in a respectful way?
---
Maintaining sound professional relationships
August, 2017
Q: I work in a small team and generally get along well with everyone. However, there is one person I find it difficult to speak up to, and I am often upset by how she speaks to me. Her sarcasm towards me can be tiring and often upsetting. How do I talk to her and preserve our working relationship?
---
Feel the fear and face it with courage
July, 2017
Q: I feel stuck in my life. My friends are achieving success in many aspects of their lives while I seem to be watching life pass me by. My friends tell me that I seem to be afraid of putting myself "out there" and I need to try new things. I tend to agree! I let my fears get in the way of applying for promotions at work and generally living the life I want to live. How do I let go of my fears and take some chances?
---
Being mindful, thinking mindfully
June, 2017
Q: I have friends who highly recommend mindfulness meditation as they say it quietens their minds and has done wonders for their worrying thoughts and mental health. However, I am not one for meditation and would like some ideas of how to incorporate mindfulness and mindful thinking into my everyday life. What do you suggest?
---